Trio performance
Here is a link to the Bill Evans Trio playing "I love you Porgy". I bought this on vinyl years ago. Recently I had to chance to play "I love you Porgy" with some friends. And I thought about singing it. The lyrics are very much from a woman's point of view:
I love you Porgy, don't let him take me
Don't let him handle me
And drive me mad
I can't imagine a man singing this song without a layer of, I don't know, acting, or translation, or "look at me, how feminine I am". But the great thing about the piano is that it doesn't have a gender. I've listened to Bill Evans play this song many times. It feels completely natural and direct.
It is almost as if the song itself is Bess. The song itself is a beautiful and vulnerable thing that must be protected from brutes:
I love you Porgy
Don't let that crass commercialism take me
Don't let it handle me
And drive me mad
In this live solo version, Bill Evans looks like he's hanging on to the song for dear life. His hair is lank, he's hunched over in concentration, and I imagine him desperate for this elusive bit of wonder amid the flotsam of the world.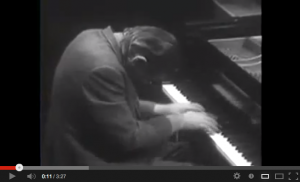 Of course the impression I have of his playing could be the result of pure showmanship. Maybe that hunched over position is a reminder to buy cigarettes and toilet paper on his way home from the nightclub. But I can't believe that. I buy the illusion. I love the song, and I love Bill Evans's struggle for the song, his fingers reaching almost smelling for the keys. He lurches up as if from a dream when the song is over and the audience reaction seems irrelevant.
I love you Porgy
Don't forget the T.P.
We're low on bananas
And maybe, shampoo